Buying lenses online. Especially when you haven't done this often, can be quite a challenge. There are daily disposable lenses, monthly reusable lenses, multifocal lenzes, nightlenses, toric lenses, hard and soft lenzes. Also there are concepts such as the Basecurve, Diameter, Toric, Power, Addition, Astigmatism, etc.
During the first period of the pandemic the Dutch Pearle stores closed due to government regulations. Sometimes an appointment could be made, but not always as restrictions varied over time. To be able to service people better online, a lenses selection tool was made to help people choose the correct lenses. The tool was made together with specialists containing multiple questions to verify what specific type of lenses would apply to specific eye needs. After walking through 9 questions customers received a list of the lenses that would fit their own situation.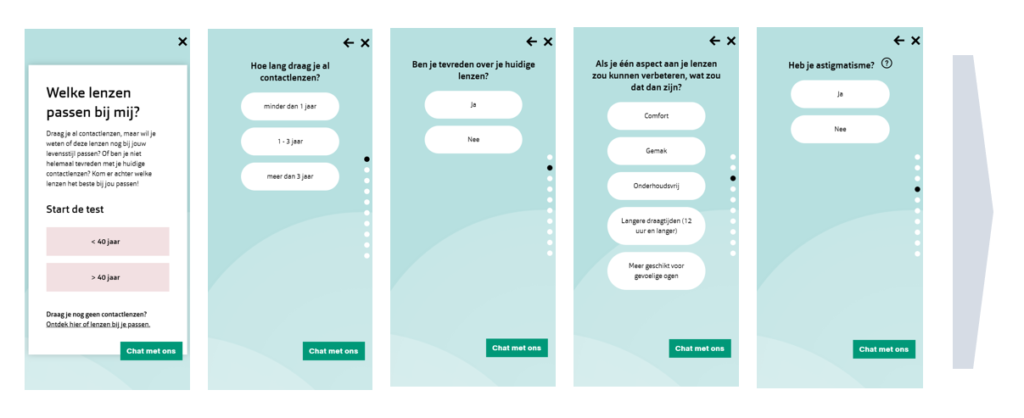 The tool was online for a few months, but it wasn't used much. From Google Analytics research however it became clear that users who used the tool had a twice as high chance of converting compared to regular website users. This triggered the Pearle and the CRO department to see if they could drive more traffic through this tool.
Additional research was done to see if the opportunity was big enough to prioritize in the opportunity backlog. From a Hotjar exit survey we saw many users having trouble finding the right lenses, or having trouble understanding the lenses attributes and words that are used.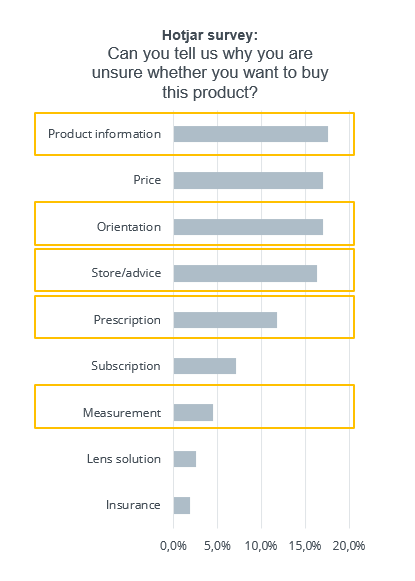 Also former usability study's showed that many users have trouble filling in lenses details on the product detail page. Also store employees mentioned this during many interviews that were held. We knew by than that not only there was an issue, but that this could be a huge opportunity. The opportunity was therefore prioritized and the first hypothesis was generated:
Hypothesis: As we have seen that the lenses tool increases the visitors' confidence to purchase lenses online and helps users choose their correct lenses, we expect that by improving the visibility of the entry to the tool, more visitors will use it and can make a better-informed decision. This will increase the conversion rate of contact lenses.
The experiment ran for about 4 weeks on Pearle.nl and showed a big increase in conversion (7.6% increase).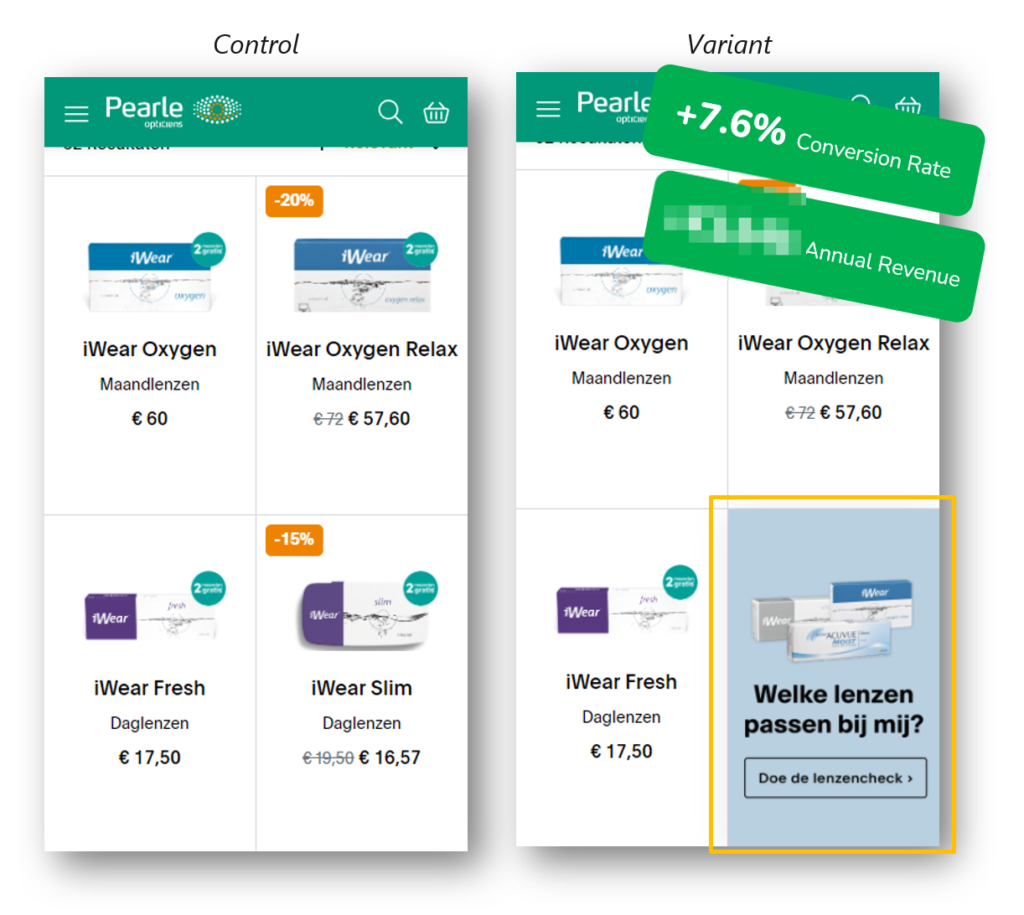 We knew that we're clearly onto something.
The evaluation was shared through the organisation and the winning variant was deployed. Also, the idea of creating tools to service customers online was applied to prescription glasses and the tools itself are improved an tested continuously to leverage this opportunity even more.
Although Pearle has a big ambition to educate their customers to purchase online and many experiments have been done to improve the ecommerce conversion rates, it is sometimes better to lengthen the road to conversion to increase the likeliness to convert.
This case was submitted to the DDMA Dutch CRO Awards 2021 and it has won the first prize: https://ddma.nl/actueel/john-beerens-bol-com-pearle-en-rtl-nederland-winnaars-van-de-ddma-dutch-cro-awards-2021/
From the Jury:
By increasing the access to the online lenses tool on mobile, Pearle was able to service more people to make a good informed decision and increase the conversion. The amount of appointments made was not hurt by the experiment. Pearle was able to leave Harmen (JBL) and RTL Nederland (Videoland) behind. 
More info on the GrandVision CRO Program: https://ddma.nl/actueel/berber-bijlsma-thecla-goossen-besteed-meer-aandacht-aan-het-optimaliseren-van-je-service-gerichte-onderdelen-van-je-website/